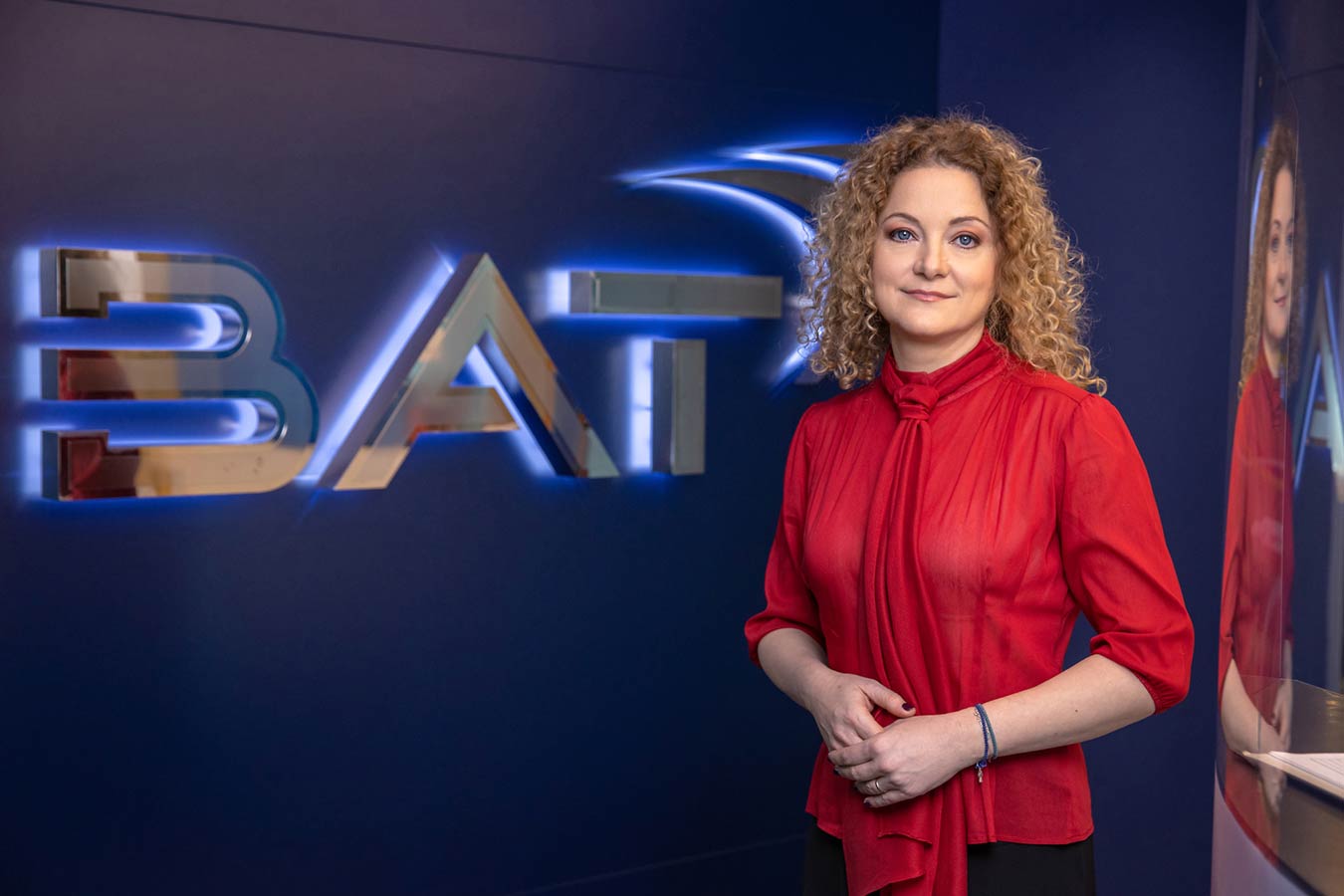 Seizures increases at year start: 6 times more contraband cigarettes seized in Q1 2023, as compared to Q1 2022.

Counterfeiting and online illicit trafficking on the rise: 1 in 4 illegal cigarettes consumed by Romanians is counterfeit*, thus marking the highest level of counterfeit cigarettes on the illicit market in the last 10 years.

An economic and social security problem: according to the National Defence Strategy 2020-2024, illicit traffic is a threat to the national security. As of 2019, the Romanian Parliament has declared 21st of April as the National Day against Illicit Product Trafficking in Romania.

BAT's objective is to build A Better Tomorrow™ through sustainable investments in the economy.
Bucharest, April 21st, 2023 – More than 1.85 billion contraband cigarettes were consumed in Romania in 2022**, although the illicit traffic level was the lowest in the last 15 years. In the first 3 months of 2023, authorities seized over 31 million cigarettes, 6 times more than in the same period of last year. Also, several networks of illegal tobacco manufacturers and sellers, including in online environment, have been discovered and dismantled. A serious phenomenon that endangers the economic and social safety of the community, contraband has been declared a threat to national security and, as of 2019, April 21st is the National Day against Illicit Products Trafficking in Romania.
The continuous efforts of the authorities to stop illegal activities at the country's borders led, in 2022, to a historical minimum of the last 15 years of the annual level of the cigarettes black market in Romania - of 7.1% versus the maximum level of 27% registered in 2010. But the figures have been increasing since the beginning of this year: in January 2023, the black market amounted to 8,1% of the total consumption, compared to 6.8% in November 2022, thus registering the highest level in the last two years, according to Novel Research.
Romania has the second largest EU external border, after Finland and registers the highest smuggling level in Eastern Europe, with a level of prejudice to the state budget amounting to approximately 2 billion lei in 2022** and a total of 32 billion lei loss, as direct impact of cigarette smuggling in the last decade (the equivalent of about 500 km of highway***).
"In 2022, most of the cigarettes seized by OLAF – 316.7 million (59.5%) – resulted from illicit production in the EU****, thus reflecting the intensification of tobacco products counterfeiting within the European Union, a visible trend in Romania, too. Therefore, the fight against illegal traffic continues and adjusts to the current trends, by stopping counterfeiting and online illicit trade, which bring new unknowns, especially in terms of the access of vulnerable categories to products from the illicit market and, implicitly, the safety of communities. As smuggling was reduced in the recent years, BAT contributed to the state budget with over 20 billion lei in 2020 and 2021. We will continue to support, through our partnerships, the efforts of the authorities with attributions in this field which, together with a predictable legislative and fiscal framework, can support the safety and economic development of the community and the legitimate players' investments in the local economy," said Ileana Dumitru, Legal and External Affairs Director for the South Eastern Europe Area at BAT.
Record seizures in March 2023.
Dolj county ranks 1st with the largest volume of seizures at year start
March 2023 marks a record in terms of total volume of illegal cigarettes seized by the authorities in recent years. Almost 14.5 million cigarettes worth approximately 9.5 million lei were seized only this March (25 times more than in March 2022, when almost 580,000 cigarettes were seized), representing at the same time, almost half of the total number of cigarettes seized in the entire first quarter of this year. Since the beginning of the year, 13.2 million contraband cigarettes were seized in Dolj County, representing approximately 42% of the total amount captured in the entire country in the first 3 months of the year.
Brasov, with 3.8 million illegal cigarettes seized, ranks 2nd in the total weight of seizures since the beginning of the year, while Suceava, Maramures and Teleorman are placed on the 3rd place, with seizures of approximately 2, 5 million cigarettes registered in each of these counties, according to data centralized on StopContrabanda.ro.
With borders intensively monitored by authorities, local counterfeiting and online illicit trade continue to grow
Amid consistent actions of the authorities to stop the smuggling phenomenon at the country's borders, tobacco products counterfeiting in factories and various other illegal processing locations continue to grow. Several clandestine processing networks have been discovered since the beginning of the year, including an illegal cigarette factory in Falticeni, in February, and approximately 10 tons of tobacco in various forms (tobacco leaves, chopped tobacco, loose tobacco), intended for clandestine processing and bulk sales, predominantly in online environments.
Significant seizures of loose or unprocessed tobacco were recorded in Bucharest and nearby counties (Popesti Leordeni, Prahova, Ilfov, etc.), given that most of the tobacco trucks manage to enter Romania at the Southern borders of the country, and also in the Southern area, smuggling networks have access to a market with increased demand for bulk tobacco (Bucharest area), as well as to the infrastructure necessary for distribution (easy transport through courier companies, following online advertising).
In 2022, 1 in 4 illegal cigarettes consumed by Romanians was counterfeit*, representing the highest level of counterfeit cigarettes on the illicit market in the last 10 years. Of the total quantities captured by the authorities in 2022, about a quarter were identified as counterfeit, the most important captures of such products being made in Constanta, Valcea and Giurgiu.
Data on the evolution of cigarette seizures in Romania are centralized in real time on www.stopcontrabanda.ro platform, a BAT initiative that aims to support the authorities by centralizing information on contraband seizures across the country, but also to inform consumers about to the effects of cigarette smuggling on society. The campaign is carried out in partnership with the Romanian Police, the Romanian Border Police, the National Agency for Fiscal Administration (ANAF) and the Romanian Customs Authority. The "Stop Smuggling" campaign was launched in the Spring of 2017 by BAT to create a unique information point on cigarette smuggling.
* More than 21.8% of cigarettes found at consumers at the time of the Novel Research 2022 interviews were counterfeit, thus recording the highest level of counterfeit cigarettes in the illicit market in the last 10 years.
** According to industry data
*** 13.5 million EUR = average cost of one km of highway , according to recent public estimates (5 mil. lowland area, 8 mil. hill area, 28 mil. mountain area).
**** Illicit tobacco trade: over half billion cigarettes seized in 2022, https://anti-fraud.ec.europa.eu/media-corner/news/illicit-tobacco-trade-over-half-billion-cigarettes-seized-2022-2023-04-04_en
About cigarette smuggling in Romania
Romania ranks 4th among the EU Member States in terms of consumed smuggled cigarettes volume and 1st in Eastern Europe. Romanians consume about 6% of all smuggled cigarettes in the EU.

Romania has 2,000 km of border with non-EU countries, where the price of tobacco can be up to three times lower.

Illegal cigarette traffic annually prejudices the Romanian state by approximately 2 billion lei.

Each container of illegal cigarettes equals 1 million euros profit for smuggling networks. Interpol data show that illicit cigarette trafficking is a catalyst for trafficking in drugs, weapons, people and even terrorist activities.

In 2019, April 21st was declared the National Day against Illicit Product Trafficking in Romania. In 2020, smuggling was included in the National Defense Strategy for 2020 - 2024, being considered a threat to the national security.

In 2021, the highest volume of reported global seizures were cigarettes - 50.5%, according to the World Customs Organization's Illicit Trafficking Report 2021.
About BAT in Romania
BAT, the biggest player in the Romanian tobacco market, has generated an impact of more than 125 billion euros in the economy in the first 25 years of presence on the local market. Of this amount, around €24 billion represents direct contribution to the state budget in the form of taxes and excise duties.

In 2021 and 2020, BAT has been Romania's biggest taxpayer, with a contribution of more than 20 billion lei to the state budget in the two years as taxes and excise.

BAT has over 3,000 employees and creates another 30,000 jobs through its distribution and supply chain.

In December 2017, BAT launched in Romania the glo device, the most innovative product of the company which heats - not burns - tobacco.
About BAT
BAT is a leading, multi-category consumer goods business with a purpose to build A Better Tomorrow™ by reducing the health impact of its business through offering a greater choice of enjoyable and less risky products for adult consumers.
The company continues to be clear that combustible cigarettes pose serious health risks, and the only way to avoid these risks is not to start or to quit. BAT encourages those who would otherwise continue to smoke to switch completely to scientifically-substantiated, reduced-risk alternatives*. In order to deliver this, BAT is transforming into a truly consumer-centric multi-category consumer products business.
BAT's ambition is to have 50 million consumers of its non-combustible products by 2030 and to generate £5billion of New Categories revenue by 2025. BAT has set stretching ESG targets including achieving carbon neutrality for Scopes 1 & 2 by 2030 and eliminating unnecessary single-use plastic and making all plastic packaging reusable, recyclable or compostable by 2025.
BAT employs over 50,000 people. The BAT Group generated revenue of £27.65 billion in 2022 and profit from operations of £10.5 billion.
The company's Strategic Portfolio is made up of its global cigarette brands and a growing range of reduced-risk*† New Category tobacco and nicotine products and traditional non-combustible tobacco products. These include vapour, tobacco heating products, modern oral products including tobacco-free nicotine pouches, as well as traditional oral products such as snus and moist snuff. In 2022, we had 22.5 million consumers of our non-combustible products, a rise of 4.2 million on full year 2021.
* Based on the weight of evidence and assuming a complete switch from cigarette smoking. These products are not risk free and are addictive.