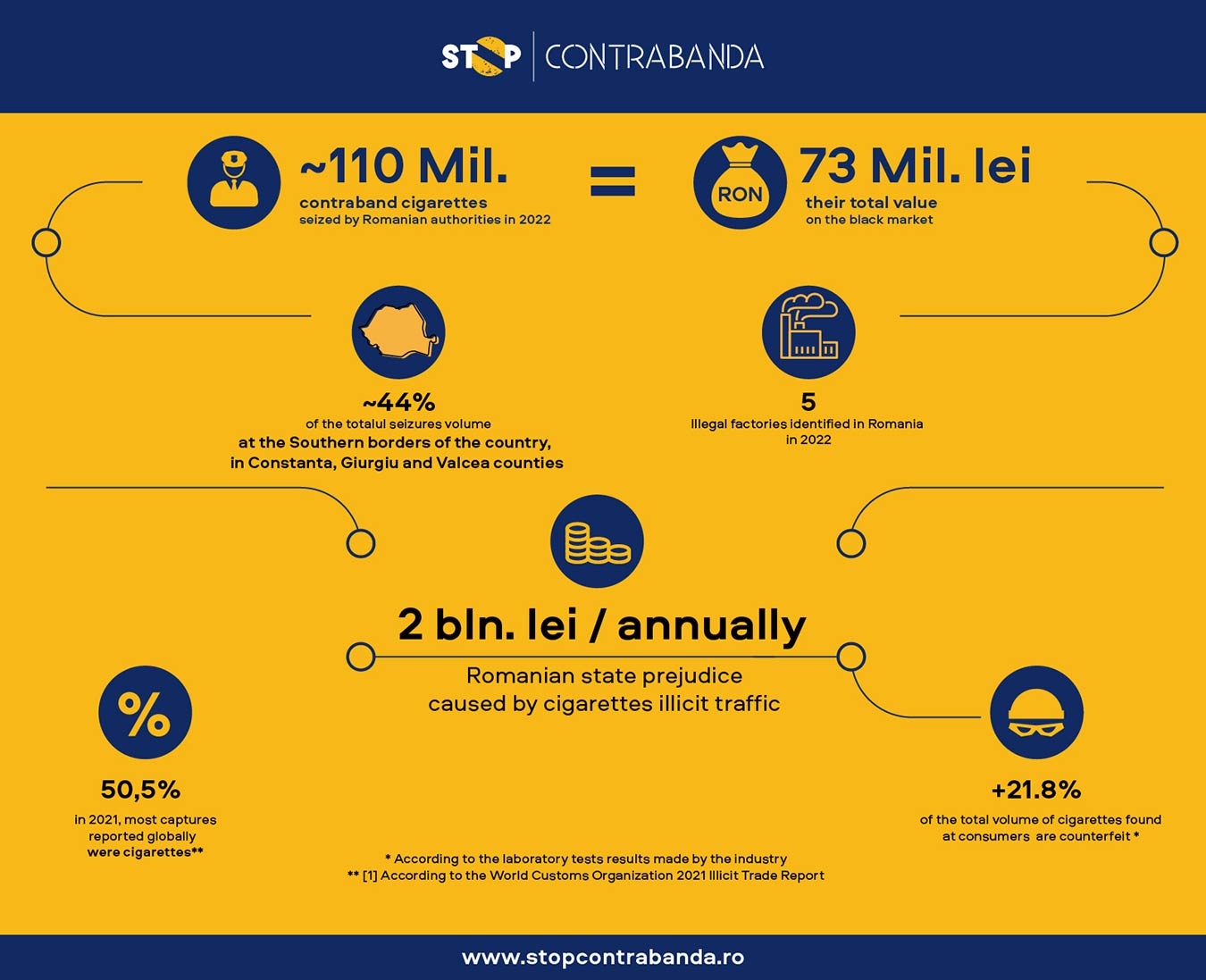 About 110 million smuggled cigarettes were seized by the authorities in 2022 in Romania. Their total value on the black market exceeds 73 million lei.

Nearly half (44%) of all the illicit seizures in 2022 were registered at the Southern borders of the country - in Constanta, Giurgiu and Valcea counties.

Counterfeiting is becoming a worrying phenomenon in Romania: 5 illegal factories identified last year; more than 21.8% cigarettes found at consumers are counterfeit, as well as more than 40% of the total captured illicit cigarettes*.

New ingenious methods of entering Romania with smuggled cigarettes: cigarettes hiding inside the cars' tanks, use of false diplomatic status and illegal traffic on air routes.

Initiator of Stop Contraband platform, BAT`s objective is to build A Better Tomorrow™, which includes continuous information campaigns and constant support of activities aimed at combating illicit traffic.
Bucharest, 27th of January 2022 – In 2022, on grounds of extensive efforts to stop illegal activities at the country borders, Romanian authorities seized more than 110 million contraband cigarettes. The black-market value of illegal cigarettes seized by the Romanian authorities last year amounts to over 73 million lei, according to data on www.stopcontrabanda.ro, the single real – time centralizer of the contraband cigarettes seizures on the Romanian territory.
According to the latest Novel Research study, the annual average of the illegal cigarettes trade in 2022 was 7.1% (versus 8.7% in 2021), the lowest average in the last 15 years, which consequently means higher revenues to the state budget. For comparison, the maximum level reached by the cigarettes black market in Romania in 2010 was 27% of the entire consumption. Moreover, the annual average of cigarette smuggling in Romania is now below the European average of 10%.
"The continuous, year to year black-market decline, is a positive effect of strengthening the borders security and the effective partnership with the Romanian authorities to combat the illicit cigarette traffic. The decrease of illegal activities is directly corelated with the increase of tobacco industry`s contributions to the state budget, with BAT Romania being the largest contributor in the last two years. We continue to be a dedicated partner in supporting the authorities` efforts of combating illicit traffic, through Stop Contrabanda information platform, awareness programs and donations of necessary equipment in reaching these objectives," mentioned Ileana Dumitru, Legal and Public Relations Director, Central Europe South Area at BAT.
Almost half of the entire seizures, at Romania`s Southern borders
In 2022, the highest volume of contraband cigarettes seized was recorded in three counties: Constanta (over 15.6 million cigarettes), Giurgiu (over 13.7 million cigarettes) and Valcea (nearly 11.2 million cigarettes). The seizures in these counties accounted for 44% of the total volume registered last year on Romanian territory, according to data centralized on StopContrabanda.ro. Illicit traffic also remained high at the Northern borders of the country, with about 42% of the total seizures made in these areas (38.5 million cigarettes).
Smuggling networks are diversifying their methods
In 2022, authorities identified new methods of illegally introducing counterfeit cigarettes into the country: last year in December, a person tried to introduce more than 8,000 packs of contraband cigarettes in Romania, using the false status of a diplomat. Significant volumes of contraband cigarettes were discovered in the fuel tank, wing, or floor of several cars attempting to cross the borders illegally.
Illicit trafficking also proliferated on air routes in 2022. Significant seizures were recorded on airports, with authorities detaining several people throughout the year, who were trying to transit the borders with significant volumes of cigarettes.
Also, according to the authorities` data, significant amounts of unprocessed tobacco were seized in 2022, the largest amount of tobacco being confiscated by ANAF in May: 10,260 kg of raw tobacco, imported from Indonesia. Last year, more than 50 tons of tobacco (raw, for nargileh or tobacco found in illegal factories) were discovered and confiscated. The amount is almost double compared to 2021, when around 30 tons of tobacco were seized.
Cigarette counterfeiting is becoming a worrying phenomenon
More than 21.8% of cigarettes found at consumers on the occasion of market research interviews** were counterfeit, marking the highest level of counterfeit cigarettes on the illicit market in the last 10 years.
Of the total quantities captured by the authorities in 2022, more than 40% were identified as counterfeit, the most important such seizures being made in Contanta, Valcea and Giurgiu.
At the same time, the number of illegal cigarette factories discovered and deconstructed by the authorities increased to 5 in 2022, as compared to 2 discovered in 2021. This is also an indicator of smuggling networks` methods diversification.
Real time data on the evolution of cigarette seizures in Romania can be checked in real – time on www.stopcontrabanda.ro platform, a BAT initiative that aims to support the authorities by centralizing the seizures throughout the country, but also to inform consumers on the negative impact of cigarette smuggling on society. The campaign is developed in partnership with the Romanian Police, the Romanian Border Police, the National Agency for Fiscal Administration (ANAF) and the Romanian Customs Authority. The "Stop Contrabanda" campaign was launched in the Spring of 2017 by BAT, to create a unique information point on cigarette smuggling activity.
* According to the laboratory tests results made by the industry
** Novel Research Study 2022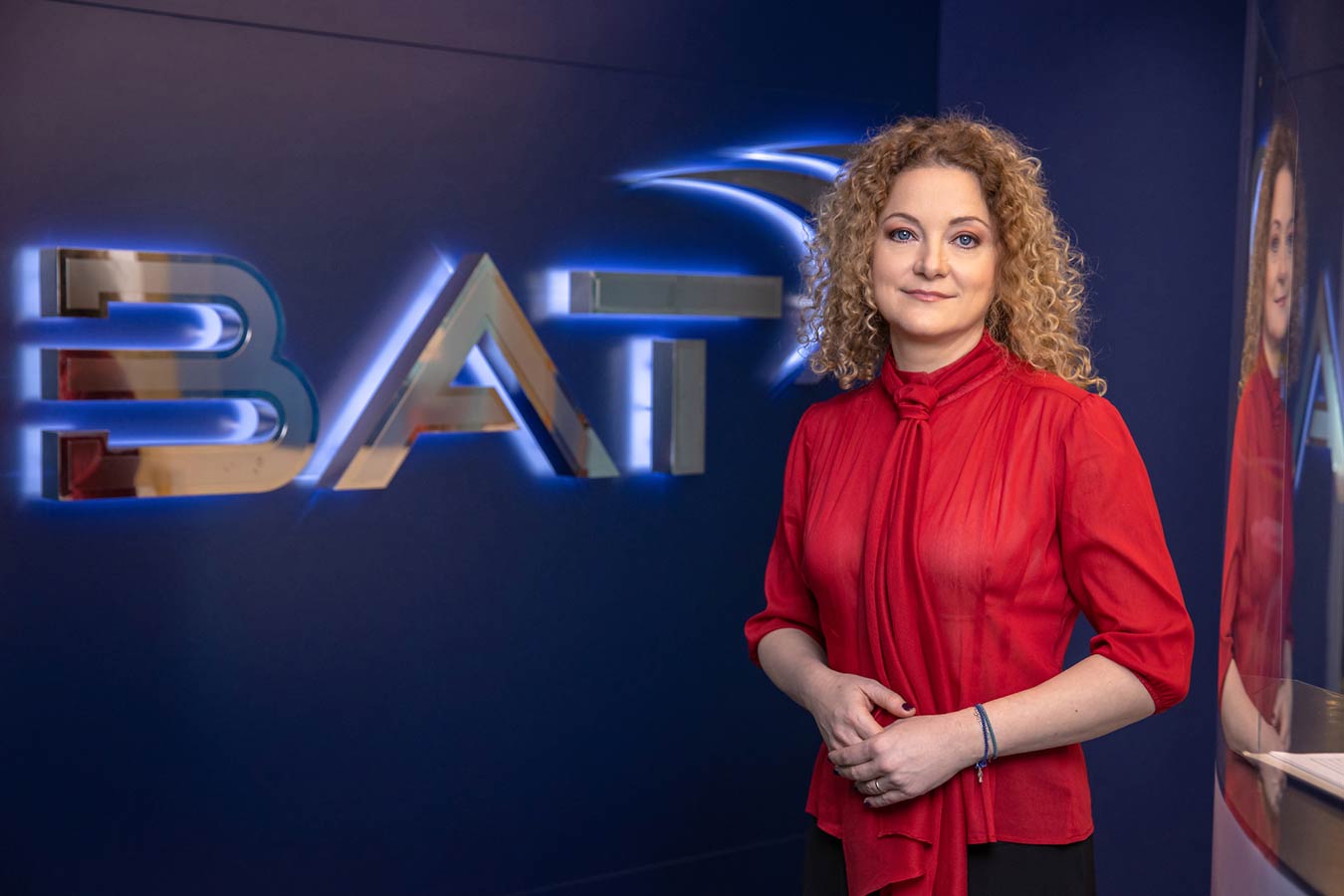 About cigarettes smuggling in Romania
Romania has the highest level of cigarette smuggling in Eastern Europe.

Romania has 2,000 km of border with non-EU countries, where the price of tobacco can be up to three times lower.

Illegal cigarette trafficking annually prejudices the Romanian state by approximately 2 billion lei, which represents the equivalent of 667 km of modernized national road.¹

Each container of illegal cigarettes equals one million euros profit for smuggling networks. Interpol data show that illicit cigarette trafficking is a catalyst for trafficking in drugs, weapons, people and even terrorist activities.

In 2021, most seizures reported globally were of cigarettes - 50.5%.².
About BAT in Romania
In 2021, for the second year in a row, BAT was the largest contributor to the state budget. On grounds of cigarette black market decrease, in 2021 BAT had a total contribution of nearly 11 billion lei (2.2 billion euros) to the state budget, through taxes and excise duties, which represents a 10% increase compared to 2020.

BAT is the leader of the tobacco market in Romania, with over 50% share.

BAT has over 3,000 employees and creates another 30,000 jobs through its distribution and supply chain.

In December 2017, BAT launched in Romania the glo device, the most innovative product of the company which heats - not burns - tobacco.
About BAT globally
BAT is a leading, multi-category consumer goods business with a purpose to build A Better Tomorrow™ by reducing the health impact of its business through offering a greater choice of enjoyable and less risky products for adult consumers.
The company continues to be clear that combustible cigarettes pose serious health risks, and the only way to avoid these risks is not to start or to quit. BAT encourages those who would otherwise continue to smoke to switch completely to scientifically substantiated, reduced-risk alternatives*†. To deliver this, BAT is transforming into a truly consumer-centric multi-category consumer products business.
BAT's ambition is to have 50 million consumers of its non-combustible products by 2030 and to generate £5 billion of New Categories revenue by 2025. BAT has set stretching ESG targets including achieving a 50% reduction in Scope 1, 2 & 3 greenhouse gas emissions by 2030, versus a 2020 baseline; and, making all plastic packaging reusable, recyclable or compostable by 2025.
BAT employs over 52,000 people and operates in over 175 countries. The BAT Group generated revenue of £12.87 billion in the first half of 2022 and profit from operations of £3.68 billion.
The company's Strategic Portfolio is made up of its global cigarette brands and a growing range of reduced risk* New Category tobacco and nicotine products and traditional non-combustible tobacco products. These include vapour, tobacco heating products, modern oral products including tobacco-free nicotine pouches, as well as traditional oral products such as snus and moist snuff. In the first half of 2022, we had 20.4 million consumers of our non-combustible products, a rise of 2.1 million on full year 2021.
* Based on the weight of evidence and assuming a complete switch from cigarette smoking. These products are not risk free and are addictive.
¹ At an average cost of 3 million lei for 1 km of modernized national road (according to the latest projects announced by CNAIR).
² According to the World Customs Organization 2021 Illicit Trade Report 2021. In 2021, 77 countries reported 29,219 seizures of tobacco and alcoholic products in the CEN database, while in 2020, 99 countries reported 17,419 seizures. A reported case may involve several seizures, i.e. a case involving various goods will be registered with separate seizures
https://www.wcoomd.org/-/media/wco/public/global/pdf/topics/enforcement-and-compliance/activities-and-programmes/illicit-trade-report/itr_2021_en.pdf?db=web.