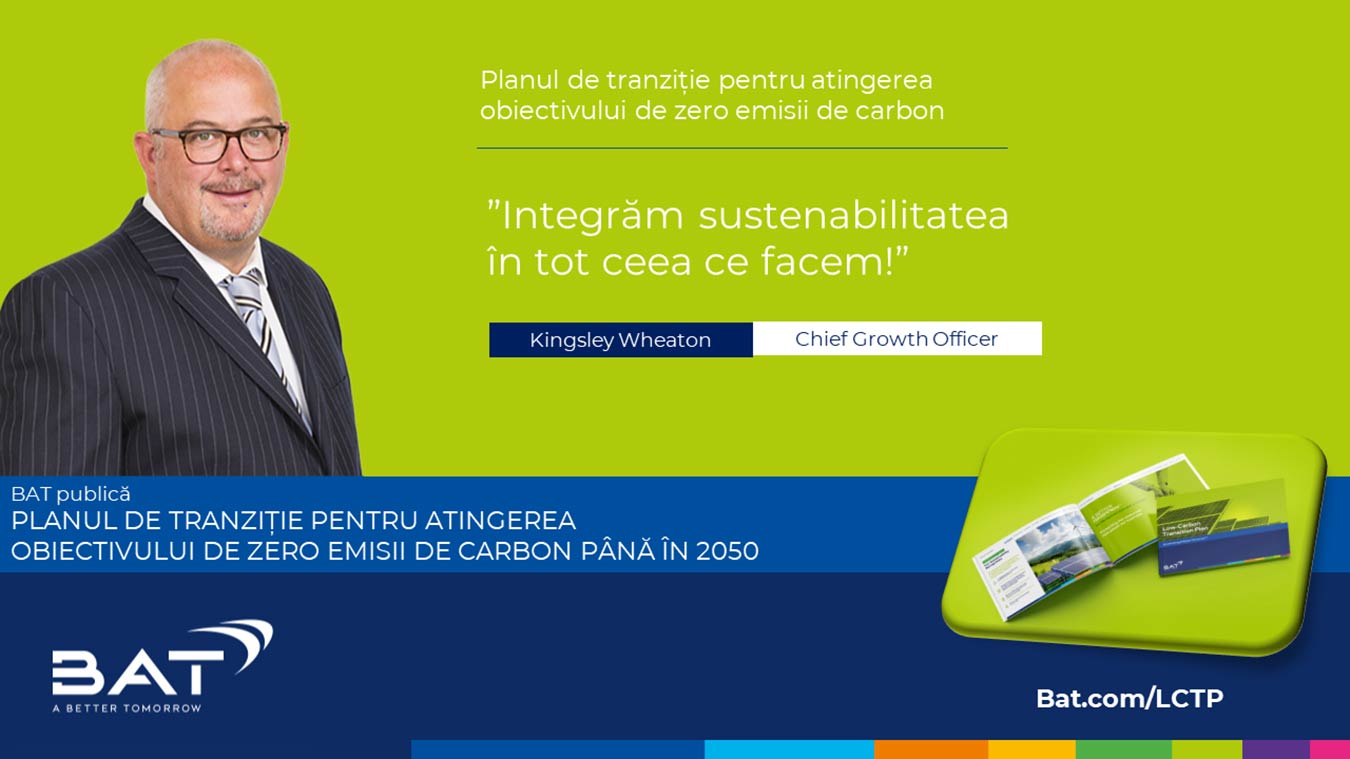 BAT's Low-Carbon Transition Plan further demonstrates our Race to Zero commitment to achieving climate change emission reduction targets.

Targets and actions are in line with BAT's ambitious 1.5ºC-aligned trajectory, approved by the Science Based Targets initiative (SBTi) in July 2022.

This is the latest milestone in BAT's journey to tackle climate change and to build A Better Tomorrow™.
BAT has published its Low-Carbon Transition Plan, detailing the actions it will take to reach its climate targets. This includes halving absolute emissions across its operations and supply chain by 2030 and to be net zero across its value chain by 2050 at the latest¹.
Kingsley Wheaton, BAT's Chief Growth Officer, said: "We're proud to take this latest step in our sustainability journey. By outlining the measures we will take to live up to our Net Zero targets through our Low-Carbon Transition Plan, we're demonstrating our continuing commitment to building A Better Tomorrow. As a global company, we know minimising impacts across our operations and value chain is the right thing to do, as well as making sound business sense. That is why we have set stretching science-based climate-related targets and continue to embed sustainability across our business."
Using risk assessment analyses and scenario planning, BAT identified risks and opportunities along the entire value chain. BAT has committed to reduce absolute Scope 1 and 2 greenhouse gas (GHG) emissions by 50% by 2030 from a 2020 base year².
Furthermore, according to the CDP, tackling Scope 3 emissions, which are indirect emissions from BAT's supply chain, will be the most critical and challenging for the sector, and it constitutes the majority of BAT's total carbon footprint.
For these Scope 3 emissions, BAT has also committed to reduce emissions by 50% by 2030 from a 2020 base year², by:
Partnering with suppliers, especially those contributing the most emissions, to ensure sustainability progress.

Progressively transitioning from air to sea freight as a lower-carbon mode of transport, on the occasions that products go by air³.

Collaborating with farmers on carbon-smart tobacco leaf farming and other projects.

Fostering circularity throughout R&D, designing for end-of-life processes, and promoting eco-design principles.
BAT has been consistently recognised for performance in sustainability and was named as a 2022 Climate Leader by the Financial Times, for successfully lowering its emissions intensity, and received the highest gold class in the S&P Global Sustainability Yearbook 2021. BAT was also featured in the Dow Jones Sustainability Indices (DJSI) for the 20th consecutive year in 2021 and was the only tobacco company named on the DJSI's World Index that same year.
¹ In 2021, BAT signed up to the UN-backed Race to Zero campaign, which aims to achieve net zero carbon emissions by 2050. As part of this, signatory companies are asked to outline detailed plans for achieving these targets, within one year of signing up. The Paris Agreement of 2015 set a framework seeking to limit the rise in average global temperatures to 1.5ºC above preindustrial levels. As such, BAT realigned its emissions reduction strategy in line with this 1.5ºC target, a trajectory which was approved by the SBTi in July 2022.

² This will be done through actions including:
- Investing in energy efficient projects, systems, and technologies. Implementing more than 70 such initiatives in 2021 resulted in a reduction of nearly 19,000 MT CO2e emissions.
- Entering into longer term power purchase agreements and investing in on-site renewable energy generation projects. By expanding global renewable electricity purchases in 2021, BAT created a reduction of 16,000 tCO2e.
- Rolling out electric and hybrid vehicles across BAT's fleet, using fuels with high biofuel content, and running route optimisation processes. Between 2017 and 2021, BAT reduced fleet emissions by 30%. More information is provided in the full roadmap.

³ Most production currently goes by sea freight.
About BAT
BAT is a leading, multi-category consumer goods business with a purpose to build A Better Tomorrow™ by reducing the health impact of its business through offering a greater choice of enjoyable and less risky products for adult consumers.
The company continues to be clear that combustible cigarettes pose serious health risks, and the only way to avoid these risks is not to start or to quit. BAT encourages those who would otherwise continue to smoke to switch completely to scientifically-substantiated, reduced-risk alternatives*†. In order to deliver this, BAT is transforming into a truly consumer-centric multi-category consumer products business.
BAT's ambition is to have 50 million consumers of its non-combustible products by 2030 and to generate £5 billion of New Categories revenue by 2025. BAT has set stretching ESG targets including achieving carbon neutrality for Scopes 1 & 2 by 2030 and eliminating unnecessary single-use plastic and making all plastic packaging reusable, recyclable or compostable by 2025.
BAT employs over 52,000 people and operates in over 175 countries. The BAT Group generated revenue of £12.87 billion in the first half of 2022 and profit from operations of £3.68 billion.
The company's Strategic Portfolio is made up of its global cigarette brands and a growing range of reduced-risk*† New Category tobacco and nicotine products and traditional non-combustible tobacco products. These include vapour, tobacco heating products, modern oral products including tobacco-free nicotine pouches, as well as traditional oral products such as snus and moist snuff. In the first half of 2022, we had 20.4 million consumers of our non-combustible products, a rise of 2.1 million on full year 2021.
* Based on the weight of evidence and assuming a complete switch from cigarette smoking. These products are not risk free and are addictive.
† Our products as sold in the US, including Vuse, Velo, Grizzly, Kodiak, and Camel Snus, are subject to Food and Drug Administration (FDA) regulation and no reduced-risk claims will be made as to these products without FDA clearance.
Forward-looking statements
This release contains certain forward-looking statements, including "forward-looking" statements made within the meaning of the U.S. Private Securities Litigation Reform Act of 1995. These statements are often, but not always, made through the use of words or phrases such as "believe," "anticipate," "could," "may," "would," "should," "intend," "plan," "potential," "predict," "will," "expect," "estimate," "project," "positioned," "strategy," "outlook", "target" and similar expressions. These include statements regarding our customer target ambition, New Categories revenue targets and our ESG targets.
All such forward-looking statements involve estimates and assumptions that are subject to risks, uncertainties and other factors. It is believed that the expectations reflected in this release are reasonable but they may be affected by a wide range of variables that could cause actual results to differ materially from those currently anticipated. A review of the reasons why actual results and developments may differ materially from the expectations disclosed or implied within forward-looking statements can be found by referring to the information contained under the headings "Cautionary Statement" and "Group Principal Risks " in the 2021 Annual Report and Form 20-F of British American Tobacco p.l.c. (BAT).
Additional information concerning these and other factors can be found in BAT's filings with the U.S. Securities and Exchange Commission ("SEC"), including the Annual Report on Form 20-F and Current Reports on Form 6-K, which may be obtained free of charge at the SEC's website, http://www.sec.gov and BAT's Annual Reports, which may be obtained free of charge from the BAT website www.bat.com.
Past performance is no guide to future performance and persons needing advice should consult an independent financial adviser. The forward-looking statements reflect knowledge and information available at the date of preparation of this release and BAT undertakes no obligation to update or revise these forward-looking statements, whether as a result of new information, future events or otherwise. Readers are cautioned not to place undue reliance on such forward-looking statements.