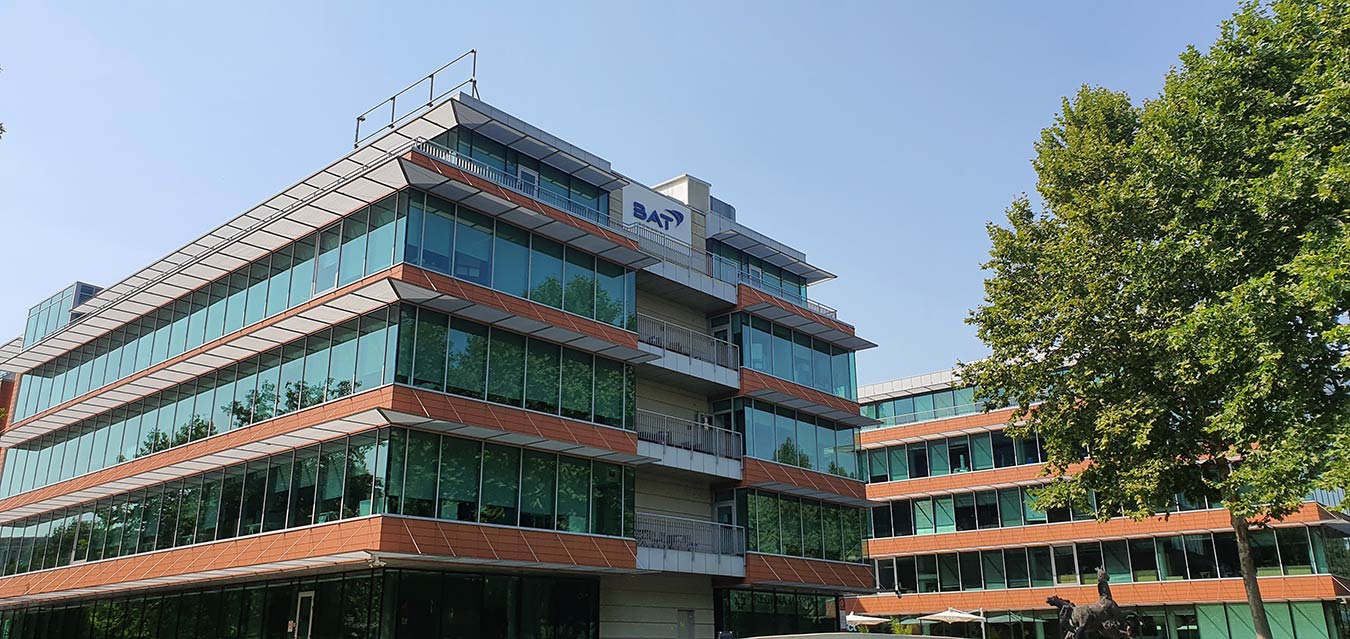 Randstad Employer Brand 2022 Study: BAT Trading is the most popular employer in the local FMCG segment.

BAT hires approximately 200 new people per year and invests over 1 million euros annually in training and professional development programs. Although the labor market has been facing major fluctuations in recent years, a BAT Romania employee works for at least 7 years within the company, on average.

With 25 years of presence on the local market, BAT is a strategic employer, creating over 3,000 jobs and indirectly generating another 30,000 jobs in its three economic entities in Romania.

BAT is building A Better Tomorrow, in which employees and organizational culture are key elements in accelerating the company transformation.
Bucharest, 27.05.2022 – BAT Trading, the local distribution entity of BAT Romania, was designated by Romanians as the most appreciated employer in the local FMCG segment, according to the global Randstad Employer Brand 2022 study.
BAT, the leader of the local tobacco market, is a strategic employer: the company has tripled the number of its employees in recent years in the three economic entities present in Romania (from about 1,200 employees in 2013 to over 3,000 today). The company generates indirectly another 30,000 jobs, through the distribution and supply chain.
In 25 years of presence on the Romanian market, the number of BAT employees increased every year by about 10%, with an average of 200 new employees recruited annually. BAT also allocates annually one of the largest training and professional development budgets on the local market: over 1 million euros annually, with an average investment per employee of over 1,500 euros / year.
Although the labor market has been facing major fluctuations in recent years, a BAT Romania employee works on average for a period of at least 7 years within the company. Almost half of the employees have been working for BAT Romania for at least 10 years.
"The recognition offered through the Randstad study by employees active in the economy or who aspire for a role at BAT Romania is one of the best recommendations for a strategic employer. This is a further proof of the company's reputation, the solid and inclusive organizational culture developed by BAT and the high-performance and innovative work environment, which offers real development and career opportunities to all colleagues. Our employees have an extraordinary role and mission today: to contribute to the transformation of the industry and to generate a positive impact for the communities, society, economy", said Ileana Dumitru, Legal and Public Relations Director of the Central and Southern Europe Area at BAT.
The study, conducted in the first part of the year in Romania through the international methodology developed by Randstad Group, world leader in recruitment services, evaluated criteria such as salary packages and benefits offered by employers, working atmosphere, job security, training and career development opportunities, work-life balance and personal life.
"In the FMCG industry in Romania, we have companies with a tradition in advanced programs dedicated to employees and in employer branding strategies. In this competitive context, being designated the number 1 employer brand of the sector is certainly the result of a sustained effort. Congratulations to BAT, this year's leader - we are delighted to have a strong ally in what we like to call the human forward vision of the human resources approach in our country," said Mihaela Maranca, Country Manager, Randstad Romania.
The respondents evaluated the largest employers in Romania, as per the number of employees, known by at least 10% of the population. The study engaged 4,700 people aged 18 - 64, including students, employees, freelancers and the unemployed.
BAT is on a journey of building A Better Tomorrow and reducing the health impact of its business, by offering a greater choice of enjoyable and less risky* products for adult consumers. Supporting an organizational culture in which employees are encouraged to grow, develop and innovate in a diverse and inclusive environment has always been an important goal for BAT and it is a key element in accelerating the company transformation.
About BAT Romania
In 2021, BAT is Romania's biggest taxpayer, for the second year in a row. The company paid almost 11 billion lei to the state budget last year.

BAT is the leader of the tobacco market in Romania, with over 50% share.

In December 2017, BAT launched in Romania the glo device, the most innovative product of the company which heats - not burns - tobacco.

BAT is active in Romania through its factory in Ploiesti, the second largest factory of the group in Europe, BAT Trading - the distribution company and the integrated services center in Bucharest - Global Business Services (GBS).
About BAT
BAT is a leading, multi-category consumer goods business with a purpose to build A Better Tomorrow™ by reducing the health impact of its business through offering a greater choice of enjoyable and less risky products for adult consumers. The company continues to be clear that combustible cigarettes pose serious health risks, and the only way to avoid these risks is not to start or to quit. BAT encourages those who would otherwise continue to smoke to switch completely to scientifically-substantiated, reduced-risk alternatives*. In order to deliver this, BAT is transforming into a truly consumer-centric multi-category consumer products business.
BAT's ambition is to have 50 million consumers of its non-combustible products by 2030 and to generate £5billion of New Categories revenue by 2025. BAT has set stretching ESG targets including achieving carbon neutrality for Scopes 1 & 2 by 2030 and eliminating unnecessary single-use plastic and making all plastic packaging reusable, recyclable or compostable by 2025.
BAT employs over 53,000 people and operates in over 180 countries. The BAT Group generated revenue of £25.68 billion in 2021 and profit from operations of £10.2 billion.
The company's Strategic Portfolio is made up of its global cigarette brands and a growing range of reduced-risk* New Category tobacco and nicotine products and traditional non-combustible tobacco products. These include vapour, tobacco heating products, modern oral products including tobacco-free nicotine pouches, as well as traditional oral products such as snus and moist snuff. In 2021, we had 18.3 million consumers of our non-combustible products, a rise of 4.8 million on the year before.
* Based on the weight of evidence and assuming a complete switch from cigarette smoking. These products are not risk free and are addictive.