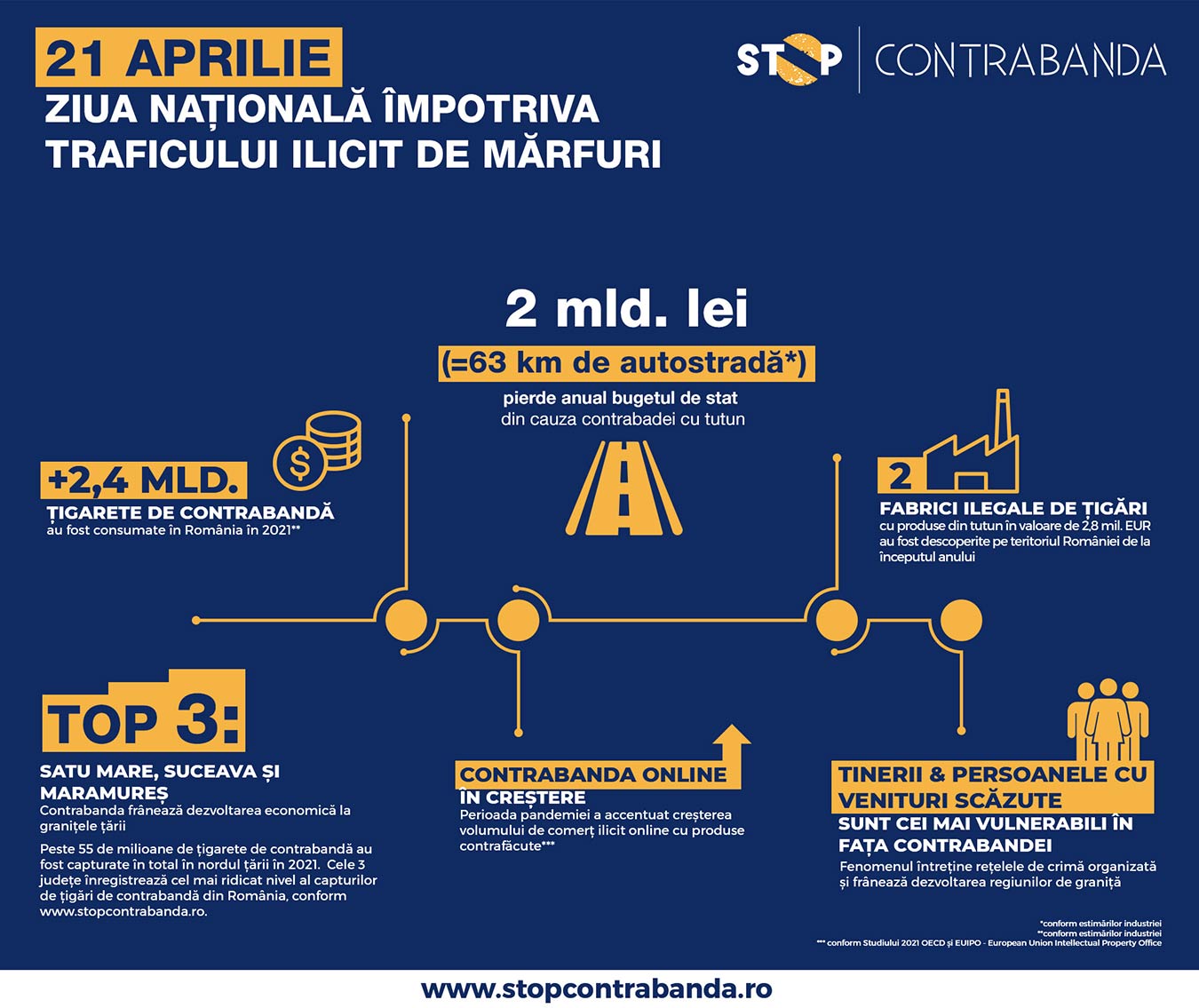 Romania`s state budget lost over 2 billion lei (equivalent to 63 km of highway) in 2021 as direct impact of illicit trade.*

The most vulnerable in front of illicit trafficking are the young and low-income categories. Smuggling fuells the activity of organized crime networks and slows down the development of border regions.

According to the National Defense Strategy for 2020-2024, smuggling is a threat to national security. From 2019, April 21 is the National Day against Illicit Product Trafficking.

BAT aims to build A Better Tomorrow™, through sustainable investments in the economy.
Bucharest, April 20th, 2022 – More than 2,4 billion sticks of illicit cigarettes were consumed in Romania in 2021**, despite the descending trend in the last 3 years, when the illicit trafficking rate dropped by more than 6 pp. Since the beginning of the year, authorities have dismantled two illegal cigarette factories, with tobacco products worth 2.8 million euros on the Romanian territory. The most vulnerable in front of illicit trafficking are the young and low-income people. Smuggled cigarettes are sold at prices up to three times cheaper than those on the legal market and traffickers do not observe the law on the buyers` age. In 2019, the Romanian Parliament established April 21st as the National Day against Illicit Trafficking of Goods.
On grounds of extensive efforts to stop illegal activities at the country borders, the cigarettes black market in Romania remained below 8% in Q1 2022, as compared to almost 14% in 2019, according to Novel Research. However, Romania remains the country with the highest smuggling volume in Eastern Europe and the annual state budget prejudice amounts to over 2 billion lei (equivalent to 63 km of highway, according to official estimates).
"With 25 years of investment activity in Romania, BAT remains a partner of the state authorities in combating illicit trafficking. Every year, we run national information campaigns and effective actions in support of the Romanian authorities, aimed to significantly contribute to reducing the smuggling volume. In 2021, on grounds of decreasing the black cigarette market volume, BAT paid the Romanian state budget about 1.25 billion lei more than the previous year, reaching almost 11 billion lei contributions through excise and taxes. A low level of illicit trafficking and a predictable fiscal framework for all categories of nicotine products are the main conditions for maintaining a favorable investments context and, thus, for the increase of contributions to the state budget," stated Ileana Dumitru, Legal and External Affairs Director, Central Europe South Area within BAT.
Smuggling is holding back the economic development at the country's borders.
In 2021, with over 55 million smuggled cigarettes seized in total in the north of the country, Satu Mare, Suceava and Maramures counties record the highest level of smuggled cigarette seizures in Romania, according to www.stopcontrabanda.ro. According to the GfK Purchasing Power Europe 2021 *** report, the northeastern part of Romania is also the least developed, with a purchasing power of only 71.2% compared to the national average and a third compared to the EU average. The average salary in these counties is below the threshold of 3,000 lei net per month, with approximately 20% below the national average, according to INS - National Institute of Statistics.
Online trafficking, on the rise
In the online environment, smuggling is a phenomenon in the attention of the authorities in recent years, and its magnitude is not yet sufficiently known. According to the latest OECD and EUIPO (European Union Intellectual Property Office) **** study, the pandemic period has seen an increase in the volume of online illicit trade in counterfeit products, and tobacco products in this category are one of the main targets.
Data on the evolution of cigarette seizures in Romania are centralized in real time on the platform www.stopcontrabanda.ro, a BAT initiative that aims to support the authorities by centralizing information on contraband seizures across the country, but also to inform consumers about to the effects of cigarette smuggling on society. The campaign is carried out in partnership with the Romanian Police, the Romanian Border Police, the National Agency for Fiscal Administration (ANAF) and the General Directorate of Customs.
The "Stop Smuggling" campaign was launched in the spring of 2017 by BAT to create a unique information point on cigarette smuggling.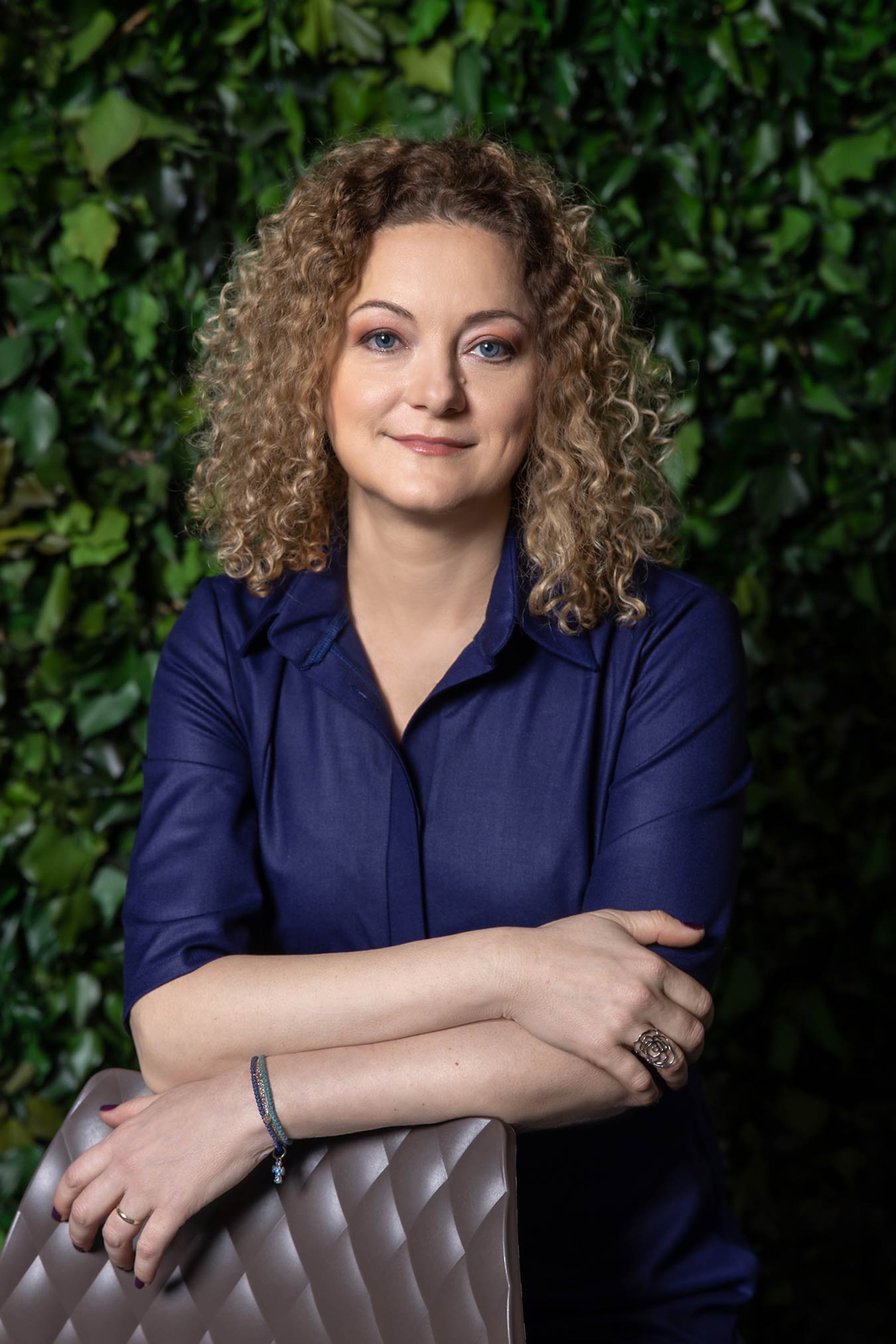 About cigarettes smuggling in Romania
According to KPMG Project Sun 2021 report, ranks sixth among the EU member states in terms of cigarette smuggling and first in Eastern Europe.

Romania has 2,000 km of border with non-EU countries, where the price of tobacco can be up to three times lower.

Illegal cigarette trafficking annually prejudices the Romanian state by approximately 2 billion lei.

Each container of illegal cigarettes equals one million euros profit for smuggling networks. Interpol data show that illicit cigarette trafficking is a catalyst for trafficking in drugs, weapons, people and even terrorist activities.

In 2019, April 21st was legislated as the National Day against Illicit Product Trafficking in Romania. In 2020, smuggling was included in the National Defense Strategy for the period 2020 - 2024, being considered a threat to the national security.
About BAT in Romania
In 2021, BAT is Romania's biggest taxpayer, for the second year in a row. The company paid almost 11 billion lei to the state budget last year.

BAT is the leader of the tobacco market in Romania, with over 50% share.

BAT has over 3,000 employees and creates another 30,000 jobs through its distribution and supply chain.

In December 2017, BAT launched in Romania the glo device, the most innovative product of the company which heats - not burns - tobacco.
About BAT
BAT is a leading, multi-category consumer goods business with a purpose to build A Better Tomorrow™ by reducing the health impact of its business through offering a greater choice of enjoyable and less risky products for adult consumers. The company continues to be clear that combustible cigarettes pose serious health risks, and the only way to avoid these risks is not to start or to quit. BAT encourages those who would otherwise continue to smoke to switch completely to scientifically-substantiated, reduced-risk alternatives*. In order to deliver this, BAT is transforming into a truly consumer-centric multi-category consumer products business.
BAT's ambition is to have 50 million consumers of its non-combustible products by 2030 and to generate £5billion of New Categories revenue by 2025. BAT has set stretching ESG targets including achieving carbon neutrality for Scopes 1 & 2 by 2030 and eliminating unnecessary single-use plastic and making all plastic packaging reusable, recyclable or compostable by 2025.
BAT employs over 53,000 people and operates in over 180 countries. The BAT Group generated revenue of £25.68 billion in 2021 and profit from operations of £10.2 billion.
The company's Strategic Portfolio is made up of its global cigarette brands and a growing range of reduced-risk* New Category tobacco and nicotine products and traditional non-combustible tobacco products. These include vapour, tobacco heating products, modern oral products including tobacco-free nicotine pouches, as well as traditional oral products such as snus and moist snuff. In 2021, we had 18.3 million consumers of our non-combustible products, a rise of 4.8 million on the year before.
* Based on the weight of evidence and assuming a complete switch from cigarette smoking. These products are not risk free and are addictive.